After much online glee, the publisher has removed the first glimpse of the superheros genitals from its latest Batman issue prompting fans to chase unaltered copies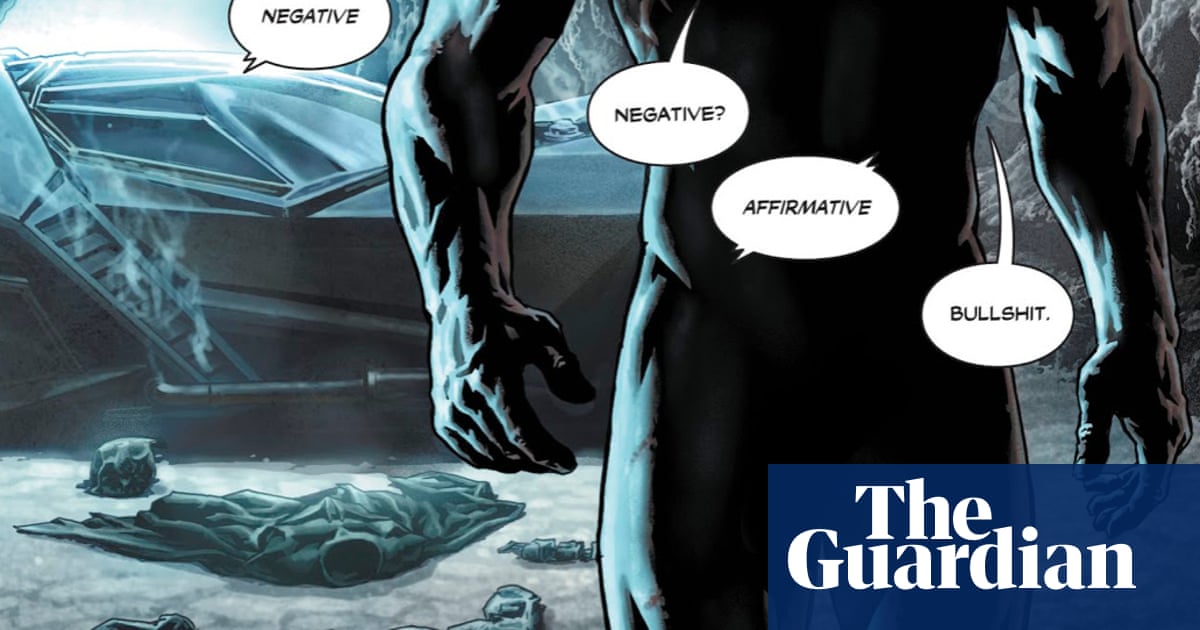 DC Comics has withdrawn a page of a new comic that showed Batmans genitals for the first time, leaving fans scrambling to get hold of existing issues featuring what has rapidly become known as the batawang.
Published this week, Batman: Damned part of a new, edgy and provocative line from DC features Batman and the magician John Constantine hunting for a killer in Gotham City. The nude scene, drawn by Lee Bermejo, occurs as Batman removes the Batsuit for a body scan from his computer. The superheros genitals were visible in the print edition, but obscured by darkness in digital editions.
On Friday, DC confirmed to the Guardian that Batmans genitals would no longer be depicted in any future editions of the comic. The Hollywood Reporter quotes a source close to the project as saying the studio had decided the nudity did not add to the story and would be removed in future printings, after an online furore.
Around 115,000 copies featuring the superheros lil Wayne still exist, according to the Hollywood Reporter, with fans fighting to get their hands on the uncensored comic. Big Bang Comics in Dublin announced a one-copy-per-customer limit due to unprecedented demand, while comic news website Bleeding Cool reports that Diamond Comics Distributors was listing the title on back-order, meaning no more copies with the offending page will be printed.
One fan Tweeted: Just called my local comic shop to reserve a copy of the book with BATMANS PENIS and he muttered under his breath this is ridiculous and I am so glad I get to annoy a straight person AND see Bruce Waynes peener in the same day. I called at 11am and was told no more, wrote another, sadly.
Batmans is not the first penis to appear in a comic book, but it had been hailed by critics as going some way towards redressing the balance, after all the female flesh that has been depicted in comics for decades. It is refreshing to see a focus on male nudity. Female bodies are so often exploited in comics, both in their illustration and in characters lack of agency, that seeing a mans body on display is frankly refreshing, wrote Chelsea Steiner in The Mary Sue.
Other writers feel the comic does not go far enough. Comics editor Susana Polo argues on the website Polygon that we see just the barest, silhouetted outline of Batmans penis, and that she expected more. Im not saying that Watchmen is a classic because Doctor Manhattans penis was visible, but I am saying that we had a clearly drawn, fully lit penis in a DC book as early as 1986.
Polo continues: In an environment where we can all go look at an unofficial drawing of Batmans penis at any time, I would expect anyone crafting an official drawing of Batmans penis to take the power of that responsibility and do something bold. Something thats additive to the story. And so, in this op-ed, written in my full professional capacity, I am arguing that if Batmans penis is shown in further issues of Batman: Damned, that it be more prominent in both art and story.
Read more: https://www.theguardian.com/books/2018/sep/21/batmans-genitals-dc-withdraws-nude-scene-damned