A new book celebrates the creative mavericks behind the glamour of postwar magazine covers and explores the magic of a dying culture
As a teenager in 1960s Belfast, I fell in love with magazines. They introduced me to a community beyond family and school. They were seductive and aspirational. I remember seeing Rolling Stone for the first time in a Belfast boutique in 1968 while wondering if I could afford a Ben Sherman shirt. It was a revelation, voicing a cultural shift that I only hazily understood but knew I wanted to be part of. I bought the magazine, not the shirt. Little did I know, its co-founder, Jann Wenner, would be my boss 24 years later.
Like any business, a magazines first job is to make money for the owner, and that has traditionally been done through advertising and copy sales. The newsstand cover is crucial in this and the industry has spent millions over the decades trying to find the magic cover formula. Some titles have come close, such as the US weekly People, whose covers have been calibrated with particular brilliance.
The received thinking goes something like this. A mainstream cover should be instantly recognisable; it should have an attractive, accessible photograph with strong eye contact (we read the picture before the text and we prefer photography to illustration or pure type because it takes less time to decode); plus an easily digestible and relatable mix of cover lines peppered with the odd surprise; it should have a tone of warm, light banter; and one of the dominant colours should be buy-me red.
But the covers in Uncovered are different their newsstand numbers fluctuated between the dismal and the dynamic. I chose them because they broke boundaries and started conversations. They made a moment feel red-hot and meaningful. Some confronted taboos about race and sex. Some ridiculed hypocrisy. Some memorialised a catastrophic event. Some provided a voice that was absent from the mainstream. Some were rallying calls. Some bordered on the crude. Some turned design conventions upside down. Some ended up hanging in galleries, such as George Loiss Esquire covers, exhibited in New Yorks Museum of Modern Art in 2008.
They are social documents with unique backstories. I wanted to hear these from the creative mavericks behind them. Thats why I start in the late 1950s; prior to this, key players are unavailable. I end when covers were re-energised by the twin political thunderbolts of Brexit and Donald Trump, and the warp speed of the political news cycle.
Today, there is an overwhelming sense that the post-1945 magazine era is ending. The internet has taken over as the engine of popular culture and decimated the print business model. On the bright side, there has been a surge of handsome independent niche titles, but as yet their pulling power is limited. With technology, the barriers to producing magazines have never been lower, but those to achieving success have never been higher.
So what of magazines future? The former Spy editor Kurt Andersen hits the nail on the head: Eventually, theyll become like sailboats, he says. They dont need to exist any more. But people will still love them, and make them and buy them.
Uncovered: Revolutionary Magazine Covers is published by Cassell (30) on 4 October. To preorder a copy for 25.80 go to guardianbookshop.com or call 0330 333 6846
O, The Oprah Magazine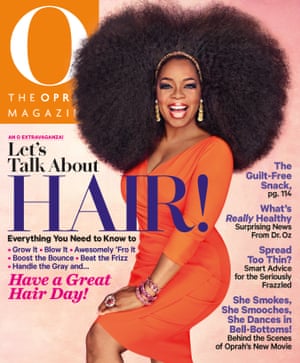 Read more: https://www.theguardian.com/artanddesign/2018/sep/23/best-magazine-covers-ever-art-design-glossy-magazines