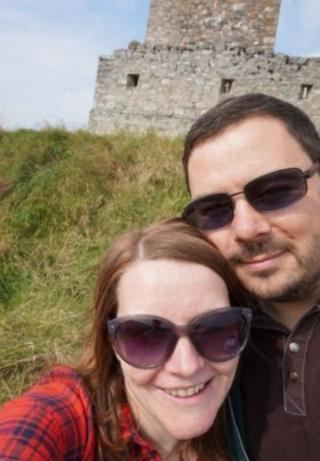 A widow has appealed for help to find a book carrying an inscription from her late husband that was accidentally given to a charity shop.
Ali Payne's search for her copy of Paulo Coelho's The Alchemist comes nearly three years after her husband, Jude, died from non-Hodgkins Lymphoma.
The book's author has joined the search by retweeting the appeal.
Jude Payne, from Edinburgh, passed away aged 41 when the couple's children Thomas and Rachel were six and five.
Mrs Payne's Twitter appeal has also attracted support from First Minister Nicola Sturgeon, who tweeted: "Wouldn't it be wonderful if this special copy of a special book could be tracked down".
Ali Payne described the appeal as "a long shot" but explained why it was such an important copy of the novel.
She said her husband had given her the novel in 2003, when they got together, but mistakenly took it to a recycling centre in Seafield in Edinburgh, when they prepared for a house move in 2010.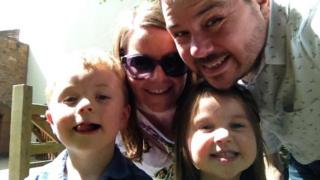 She has since learned that books taken to the Seafield centre are subsequently distributed to charity shops.
The 39-year-old, who lives in Portobello, said: "I made a public post on Facebook and shared on Twitter. I thought I should try – you never know and at least I will have tried.
"I have been totally and utterly overwhelmed, shocked and speechless by the response. The kindness of strangers reaching out to me and helping in my search.
"It is so very humbling.
"When I saw the first minister had tweeted it I was astounded. Words cannot express how I felt – my wee search for a treasured book."
The pair met in 2003 when they were both working in the Scottish Parliament and married in October 2006.
In January 2007, Mr Payne suffered with end-stage kidney failure, but received a transplant.
However, in February 2015 he became ill and was diagnosed with non-Hodgkins Lymphoma.
Read more: http://www.bbc.co.uk/news/uk-scotland-edinburgh-east-fife-45343316