Donations and messages of support have flooded in after far-right protesters targeted Bookmarks in central London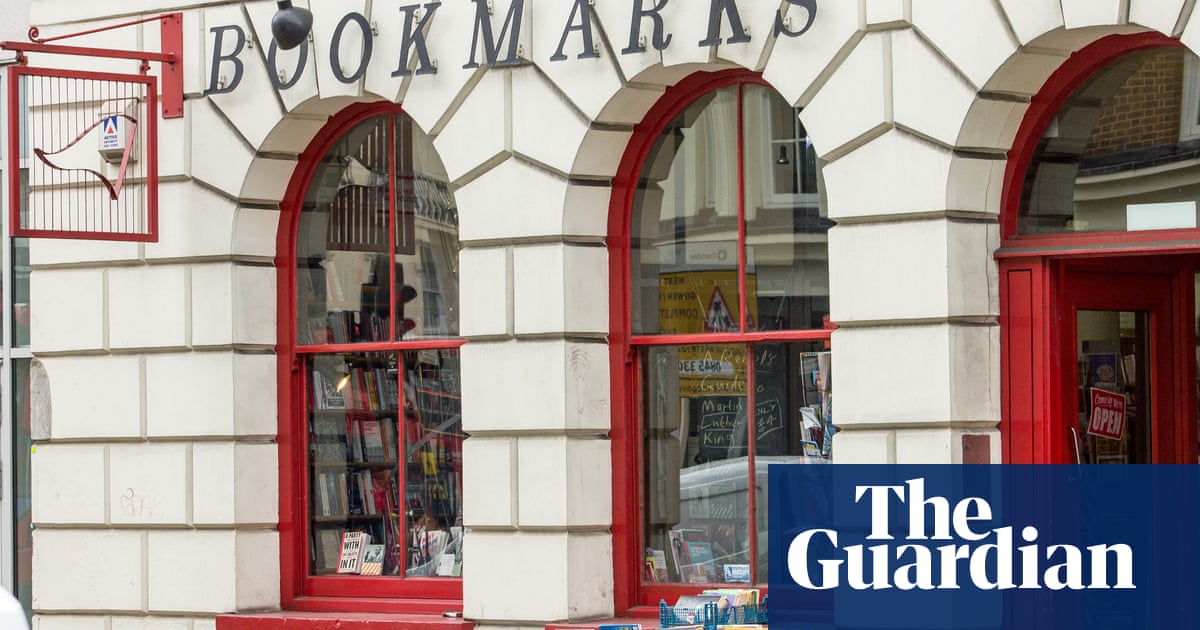 Socialist bookshop Bookmarks has said that it has been inundated with messages of support after far-right protesters targeted it in an attack on Saturday evening.
Twelve men, one of whom was wearing a Donald Trump mask, entered the central London shop as staff were closing for the day, knocking over displays and ripping up magazines while chanting far-right slogans. The shop, which is planning a free public solidarity event with appearances from authors on 11 August, said it had received messages of support from MPs and writers as well as thousands of activists from around the world.
Noel Halifax, who was one of the two staff in the shop on Saturday evening, said: There were a dozen of them bellowing and saying that we are this, that and the other and its a disgrace. One was saying something like, We wish you burn down. There were two of us, a dozen of them. Im 67, theres no way we [could] shove them out of the shop, he said.
They were very shouty, bellowing in your face, saying incoherent things. The books they were holding up and what they were saying about them made no sense. They grabbed hold of a book called Posh Boys, which is about how public-school boys still run Britain, and accused us of being paedophiles for selling this book, saying, You like boys, dont you. That sort of nonsense. Theyd clearly been on a demonstration, because their placards were nothing to do with us. They were attacking the BBC, and they were wearing baseball hats saying Make Britain Great Again. One had a mask, oddly enough a Trump mask. I thought anti-Trump people wore Trump masks.
At a protest in central London earlier that day, individuals protesting against censorship of the conspiracy theory website Infowars had been seen wearing Make Britain Great Again caps, and holding placards reading British Bolshevik Cult.
Halifax described the support Bookmarks had received after the attack as overwhelming. Members of the public have been donating money to replace damaged stock and help increase the stores security, while names including singer and activist Billy Bragg and MPs David Lammy and Rupa Huq have been vocal in their support online. The normalisation of far-right politics is already leading to chaos and vandalism on our streets. Fascist thugs attacking bookshops is the logical conclusion to a political movement that rejects facts and experts. We need to be vigilant, Lammy tweeted.
Dave Gilchrist, manager of Bookmarks, said: This horrific attack on a radical bookshop should send shivers down the spine of anyone who knows their history. The Nazis targeted books because they knew how important radical ideas are for challenging racism and fascism. The same is true today, and that is why we have to show that we wont be intimidated.
Bookmarks is the official bookseller for the Trades Union Congress. Described by Tony Benn as the university for activists, it says it is Britains largest socialist bookshop, and sets out to ensure that activists have access to the most important lessons from history as well as cutting-edge political analysis.
Halifax said the last time Bookmarks had been targeted was in the 70s. The National Front was around then, and it feels like that kind of atmosphere today, he said, also pointing to a recent attack on Londons gay bookshop Gays the Word.
With a video of the Bookmarks attack posted on YouTube, Halifax said that he believed that the far-right felt encouraged by recent political events: Not only did they do this, they then post a video on YouTube The whole Trump thing has emboldened them and they think they can just do this.
Staff, who are waiting to be interviewed by police, are now discussing whether they should install a warning system to prevent future attacks. But what can you do? We cant be having guards, were not a disco with bouncers, were a bookshop, said Halifax.
Read more: https://www.theguardian.com/books/2018/aug/06/socialist-bookshop-support-after-rightwingers-attack-bookmarks