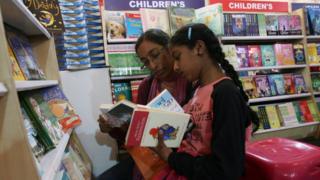 Children's diaries should feature more ethnic minority characters in primary roles, a proficiency charity has said.
The Centre for Literacy and Primary and secondary schools also said pitch-black, Asian and minority ethnic( BAME) references should not be principally defined by their struggle, tolerating or "otherness".
It said more than half the 400 diaries it looked at boasting BAME personas encompassed issues such as fight and racism.
The Publishers Association said diversity publishes were being worked on.
In the study, funded under Arts Council England, 40 publishers referred 587 works from 2017, of which 391 converged CLPE's criteria of being written "for childrens" aged between three and 11 and boasting at the least one BAME character.
Of those, 56% involved "contemporary realism" issues such as war, refugees and racism, is comparable to just 0.6% being classed as a comedy.
Other categories included fiction( 20% ), historical fiction( 9 %) and science fiction( 4 %).
'Balanced diet'
CPLE recommends that 😛 TAGEND Representation of BAME courages should be "meaningful and accurate" thereby "better reflecting the UK population Stories should allow for ethnic details "without shortening characterisations to derogatory stereotypes" BAME characters should be central and not only mainly are available in the margins Non-fiction should still be "more representative" BAME attributes should "exist across a variety of genres" to "allow readers to know the full spectrum of emotions" Image caption Sonal Sachdev Patel and Jemma Wayne-Kattan have written GITA: The Battle of the Worlds